10 Influential Quotes from Aretha Franklin on Love, Music & Life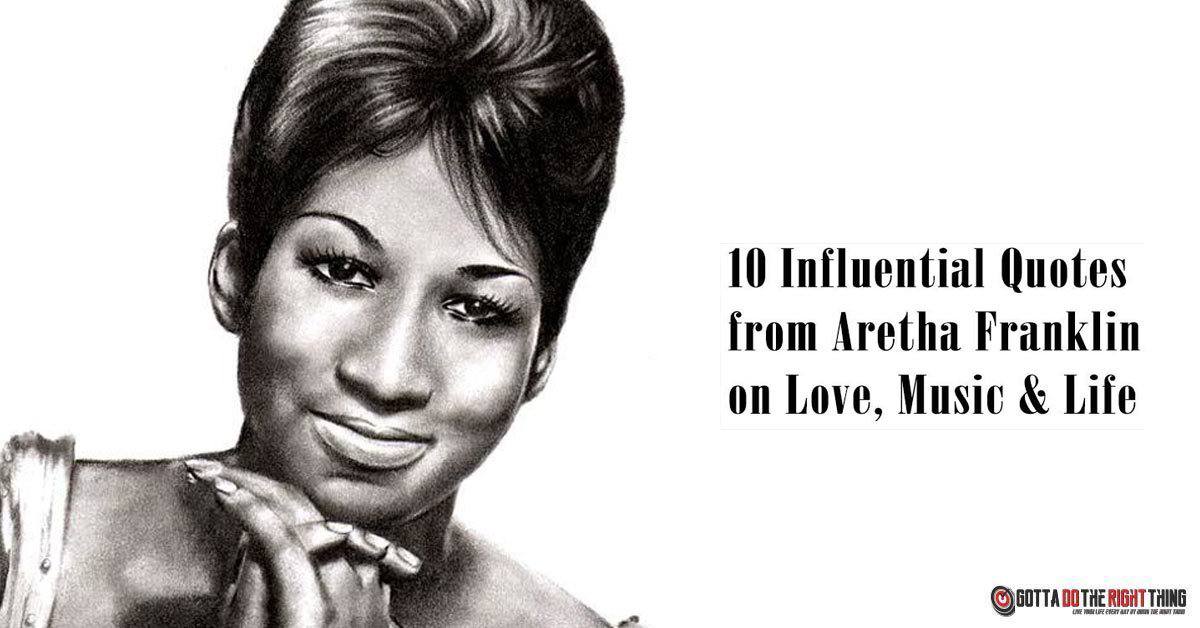 Aretha Franklin known as the Queen of Soul, passed away on August 16th at her home in Detroit surrounded by friends and family. The Queen was 76 years old.  She shall be remembered for her powerhouse, unique voice, legendary style, and influence.
According to a report, her family said that the official cause of her death was an advanced pancreatic cancer of the neuroendocrine kind. This was also confirmed by Dr. Philip Phillips of Karmanos Cancer Institute in Detroit, who was the oncologist of Aretha Franklin.
You see, Aretha began singing gospel music when she was a kid. She sang at New Bethel Baptist Church in Detroit, where C.L. Franklin, her dad, was the minister.
Later in 1960, when she was only 18 years old, she started recording for Columbia Records. However, she didn't get the necessary breakthrough as an artist. However, this all changed in 1967, when she started recording for Atlantic Records.
She achieved enormous success with her most popular songs such as: "Natural Women," "Respect," "Think" and "Spanish Harlem." And the rest is history.
Fans of Aretha Franklin left a crown and flowers as well on her star on the Hollywood Walk of Fame in LA in order to honor her memory. The Queen of Soul will be missed, but one thing is sure her soulful, powerful music will live on for all eternity.
In order to honor her life, we have collected the ten most inspirational, important, and positive quotes from Aretha Franklin on music, love, and life. Read on and enjoy the wisdom of the Queen of Soul.
10 Quotes About Music, Life, and Love from Aretha Franklin
#1 "Being the Queen is not all about singing, and being a diva is not all about singing. It has much to do with your service to people. And your social contributions to your community and your civic contributions as well."
#2 "Sometimes, what you're looking for is already there."
#3 "You cannot define a person on just one thing. You can't just forget all those wonderful and good things that a person has done because one thing didn't come off the way you thought it should come off."
#4 "Who hasn't had a weight issue? If not the body, certainly the big head!"
#5 "We all require and want respect, man or woman, black or white. It's our basic human right."
#6 "People really don't have to give you anything, so appreciate what people give you."
#7 "Falling out of love is like losing weight. It's a lot easier putting it on than taking it off."
#8 "Music does a lot of things for a lot of people. It's transporting, for sure. It can take you right back; it's uplifting, it's encouraging, it's strengthening."
#9 "Trying to grow up is hurting. You make mistakes. You try to learn from them, and when you don't, it hurts even more."
#10 "I will always be singing somewhere."
So, which quote do you like the best?