World's First Floating Tent Can Make People Want To Live In Nature — Indefinitely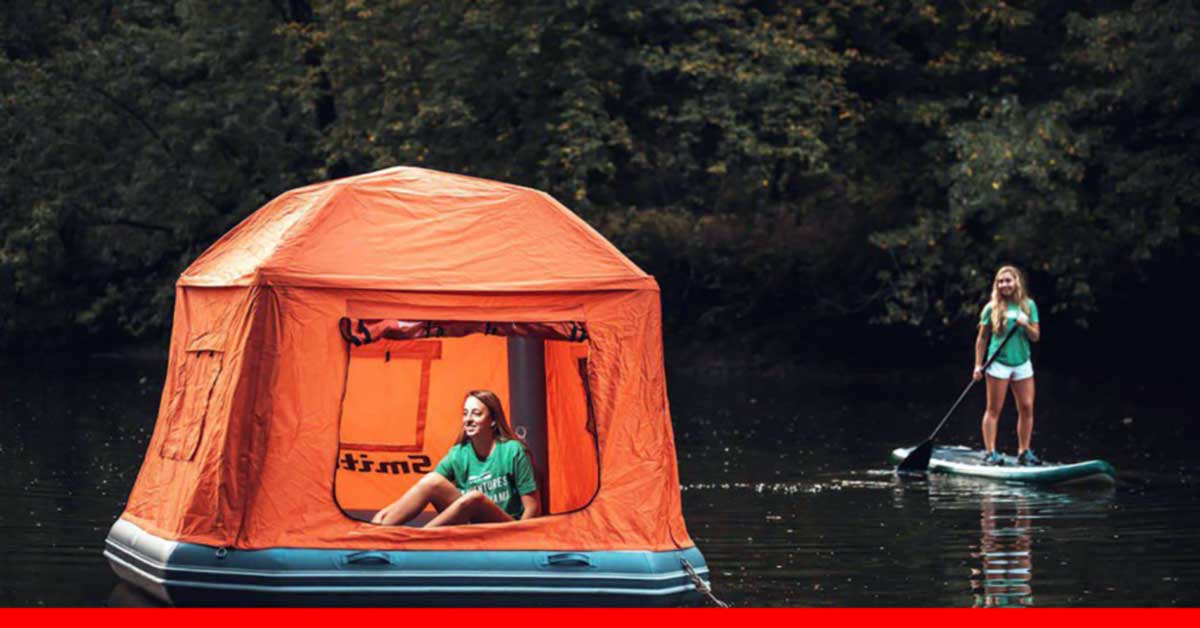 How awesome would it be if we could spend a night in nature, but on the water? Well, it turns out now we can with the latest invention from Smithfly called Shoal Tent.
The world's first floating tent will make any creek, salt water flat, or pond our private waterbed. And, with the world consisting of 70% water, we'll have plenty of options to choose from.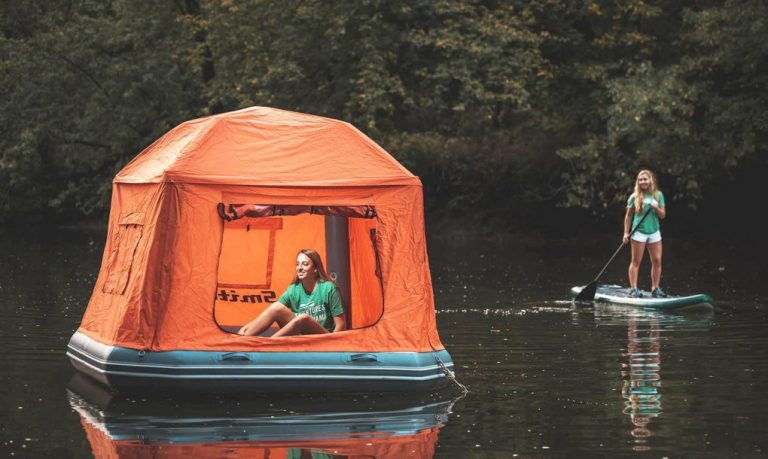 In other words, we'll be able to sleep on water in nature, and what is more relaxing than that?
How Does It Look
When measured from outside to outside, the dimensions of this unique tent are 8 feet X 8 feet. It's 6′-3″ high and allows two people up to 6′-3″ height to lay down comfortably. Those higher than that can sleep diagonally or rest their head on the tubes.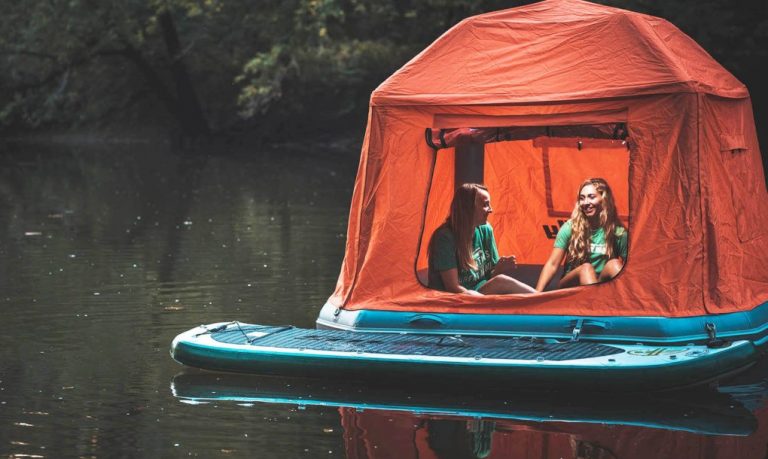 It weighs only 50 pounds, so you can easily fold it up to fit into a 60 x 24 x 18 inches, burrito-shaped storage bag.
This floating tent is the dream of every camper.  The structure of the tent is completely inflatable, so it doesn't have tent poles. What's more, it can stand up to high winds. It's made of waterproof and heavy duty material, sealed with heavy duty #8 zips.
The thickness of the floor is 6 inches, and the height of the tent is 8 feet, which means it provides enough space for you to feel comfortable in it. So, a tent topper covers the inflatable raft.
There are 3 air chambers in the raft body, 1 in the structure and 2 in the lower tube. Also, the package includes a manual foot pump and a patch kit.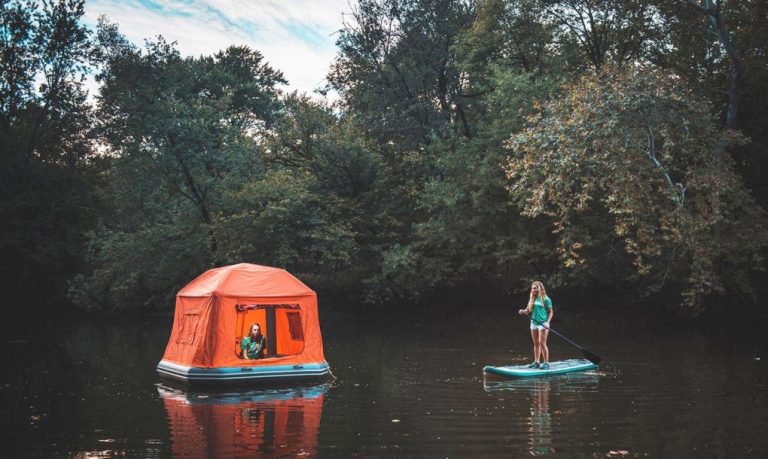 However, the absence of an anchor implies that the tent is suitable for calm body of water, free of currents.
According to the product description, all of the tent topped sides detach and attach with the help of heavy duty hook. It has zippered window and door panels which are similar to those of standard tents.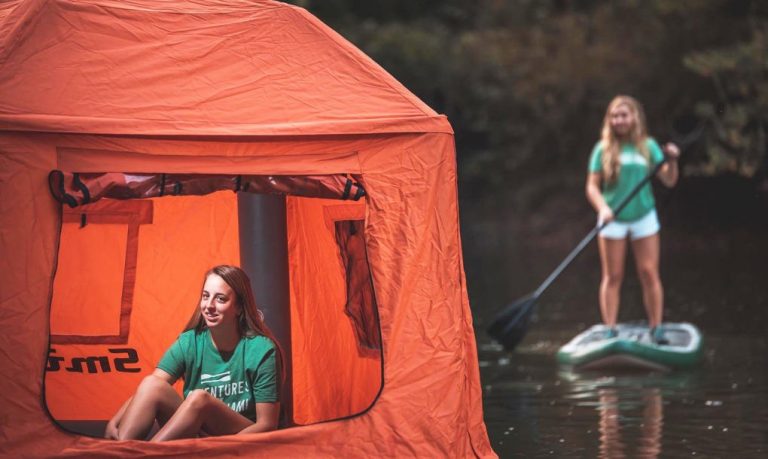 So, people can easily get in and out through the tent sides in case of an emergency. To set the Shoal Tent up, you need to inflate it, put it in the water, and hop in.
The Founder and the Price
Ethan Smith, designer and fly fisherman, is the founder of SmithFly which launched in 2010. One of his goals is to create appealing, multigenerational products while preserving the environment.
You can pre-order it online for the price of $1,499. The first batch is expected to be available in January 2018. The Shoal Tent is quite expensive, but we guess that's the price to make the world water your waterbed.
This tent and raft combination will definitely change the way people camp in future. So, expect to see a lot of floating tents in the water this year.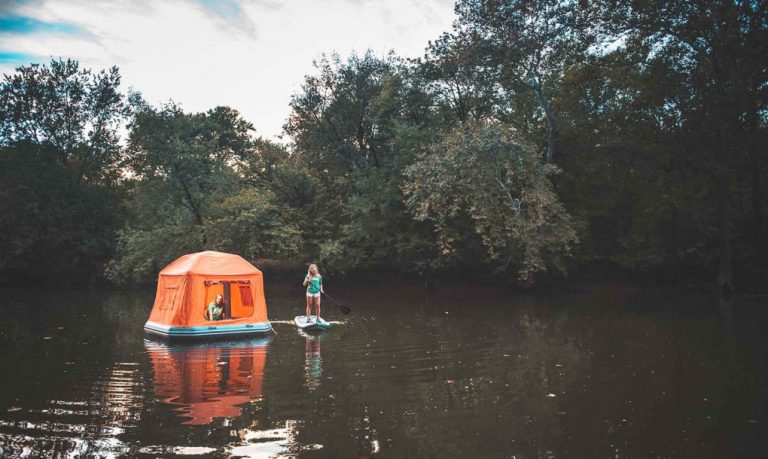 What do you think about this product that allows you to sleep under the stars while floating on water? Is this appealing or frightening to you? Is it something you'd love to have, or you'd rather buy it for a friend who loves camping?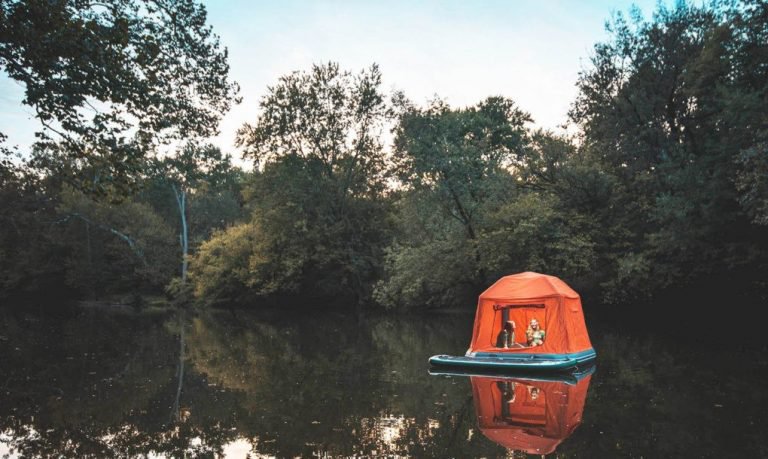 Source SmithFly