18 Brilliant Uses For Hydrogen Peroxide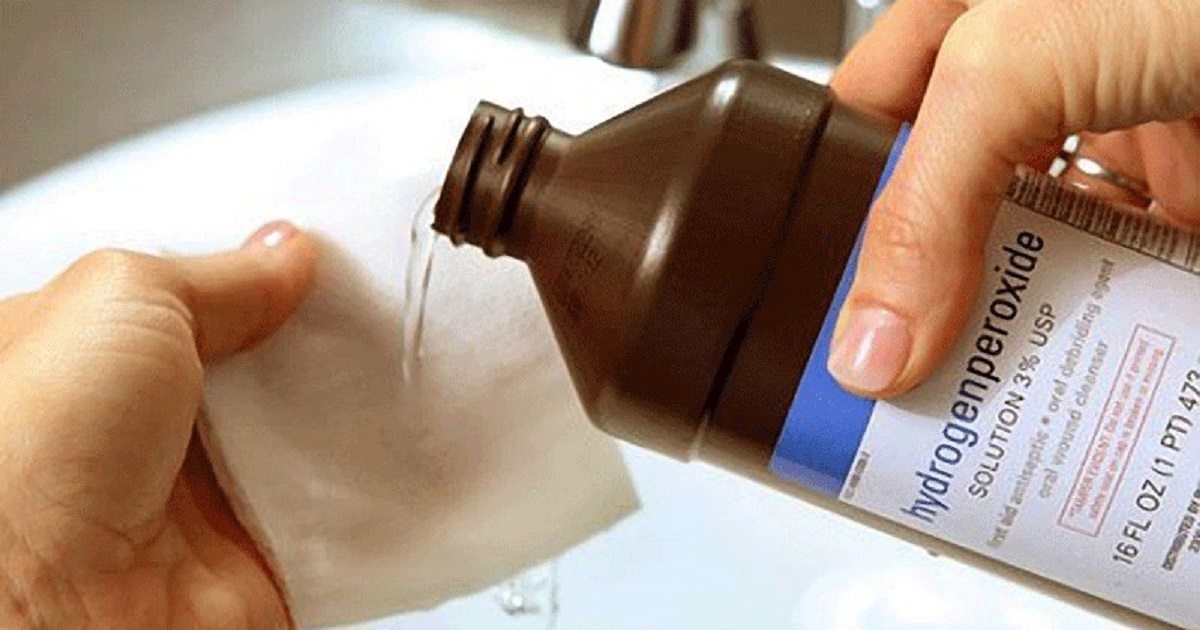 Most people know what hydrogen peroxide is. It is that liquid we use when we accidentally cut ourselves. The liquid serves to disinfect a wound, but there are many more uses people probably do not know about.
Its chemical formula is H2O2, and it is a bit more viscous than water. Bleaching, disinfecting, and oxidizing are some of the most popular uses of hydrogen peroxide.
As a matter of fact, hydrogen peroxide may explode if you heat it to boiling. So, that is the reason why there is a diluted version of it. Most of the products contain about three to 5% of the active chemical.
That fizzing you notice when you apply hydrogen peroxide on a cut is the bonds of H2O2 breaking apart. Those bubbles are free oxygen molecules. So, we offer you practical uses of HP or hydrogen peroxide you may find useful.
1. Get Rid of Viruses
Add three droplets of hydrogen peroxide 3% in your ears because professionals say that it may decrease the time of having a cold or flu. Let it stay for ten mins., and they allow it to drain. Also, it will remove the ear wax.
2. Eliminate Pesticides
A quarter of a cup of hydrogen p. in a bowl mixed with three cups of water is a perfect combination to let your veggies soak for half an hour. Then, wash the veggies and put them in the fridge to dry out.
3. Eliminate Airborne Germs
Add one pint of hydrogen peroxide 3% mixed with a gallon of water in your humidifier. Run the humidifier with the mixture inside to remove airborne germs.
4. Get Whiter Teeth
Most of the teeth products contain hydrogen peroxide in order to whiten your teeth. So, to get whiter teeth at home, first, you need to brush them as you normally do.
Then, make a mixture of two teaspoons of water and a teaspoon of hydrogen p. 3%. Use this mixture to swish it in your mouth for a minute, but NOTE: you should not swallow it!
In the end, wash your mouth. You can do this 3 times per week.
5. Bleach Your Hair
Well, this is a safer and milder way to bleach your hair in comparison with other bleaching agents.
6. Get Rid of Stuffy Sinuses
It can be really painful to have stuffy sinuses. So, you can make a homemade nasal solution that contains hydrogen peroxide. Make a mixture of one cup of water and one cap of hydrogen p.
7. Get Rid of Acne
You can prepare a face rinse to remove acne from your face. Make a mixture of two tablespoons of apple cider vinegar and two tablespoons of hydrogen p. 3%.
Use a cotton pad to soak it, and apply it on your face where you have acne. Use clean pads for different areas of your face. Do not use the same one.
8. Soften Corns and Calluses
You should make a combination of equal parts of hydrogen peroxide and ACV to soak your corns as well as calluses if you want to remove them.
9. Treat Ear Infection
Apply eight droplets of hydrogen peroxide to an ear that is infected in order to relieve the symptoms and remove the infection.
10. You Can Disinfect Toothbrushes
If you want to have good oral health you need to use a clean toothbrush. So, soak your toothbrush in some hydrogen p. to kill the bacteria.
11. Remove Stains
Did you know that you could remove blood from clothing with hydrogen peroxide? Well, use undiluted hydrogen peroxide to apply it on the stain, let it stay for one to three minutes, and then wash it off with cold water.
Use bar soap to scrub it and to eliminate the stain. Do this until the stain is completely gone.
12. Dishwasher Detergent
Using hydrogen p. is an option if you do not have a dishwasher detergent at the moment. Or, you can add it to your detergent in order to make it last longer.
13. Cleaning Contact Lenses
Hydrogen peroxide is great for people who wear contact lenses. All you have to do is put your lenses in diluted hydrogen peroxide and let it stay during the night. So, the next morning you will have clean contact lenses to wear.
14. Get Rid of Odors
Fabrics can get really bad odors as time goes by. Combine hydrogen peroxide and apple cider vinegar, and put your fabrics inside to remove the odors.
15. You Clean Your Rugs and Carpets
Did you know that hydrogen peroxide can be useful for cleaning your rugs and carpets, especially the light ones? Put diluted hydrogen peroxide in a spray bottle, and spray it on the surface you want to be cleaned.
Then, clean your carpet or rug as you usually do, but make sure to test it first.
16. Clean the Toilet
Pour half a cup of hydrogen p. in the toilet bowl and let it stay for half an hour, and then scrub. In this way, you will disinfect your toilet bowl, remove the stains, and get a clean shiny toilet.
17. You Can Clean Glass
Spray your glass surfaces with hydrogen peroxide to remove dirt and grime. And, for the best results, use an old newspaper to wipe out the surfaces.
18. Get Rid of Stains from Stone Countertops
Hydrogen peroxide is great for getting rid of stains from stone or tile surfaces. Make a mixture of white flour and hydrogen p., and apply this to the stains. Wrap it in plastic and let it stay during the night. The next day, remove it and wash it.
Now you can enjoy the many benefits of hydrogen peroxide.