How to Make Keto Naan Bread with Melted Garlic Butter?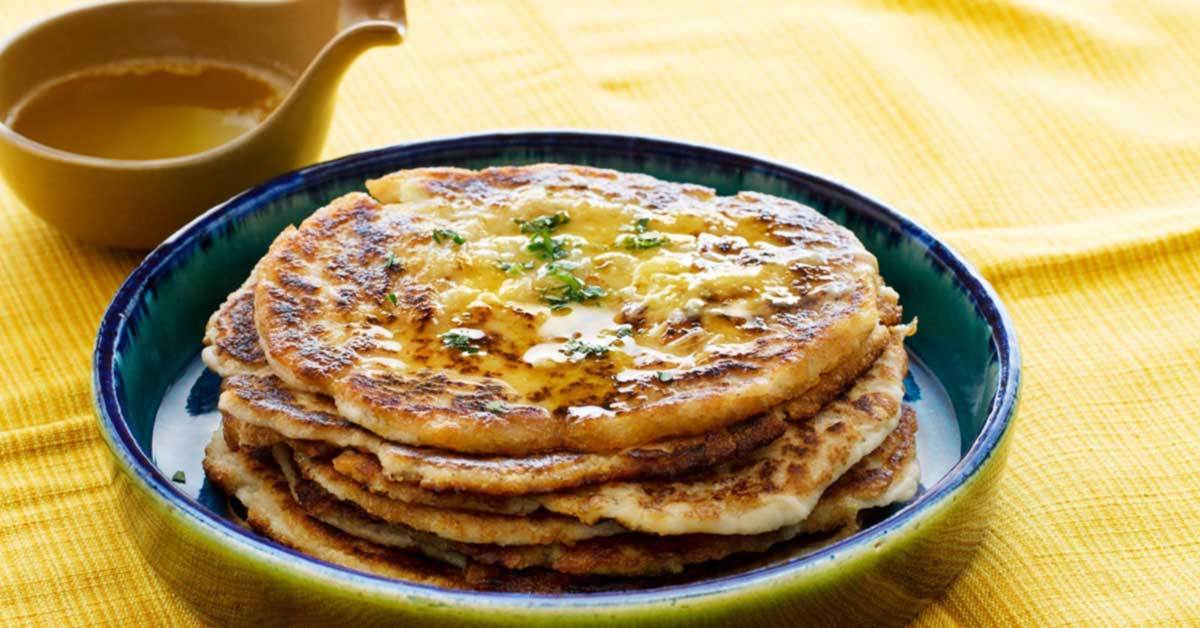 The traditional naan flatbread is made with wheat flour. However, the recipe in this article uses a gluten-free flour instead of wheat flour in order to make low-carb naan bread. And, that makes this recipe so authentic and perfect for Indian cuisine.
Plus, it uses coconut flour so it'll be more delicious than the traditional version, but also denser.
One of the ingredients is psyllium husk powder whose purpose is to give a texture to the bread as well as hold its shape. Some brands of this powder can color your batter purple, but this doesn't change the taste.
Another thing to have in mind when making these keto naans is that you can also bake them in the oven instead of frying them. This is probably a better option if they are falling apart during frying.
Line a baking sheet with parchment paper and spread the batter in thin rounds. Put them in an oven preheated at 350F. Bake until they look inflated, or about 15 to 20 minutes.
Once you take them out of the oven, fry them on medium-high heat just until they get a golden brown color.
Here's how to make them.
Keto Naan Bread – Recipe
Ingredients
2 tablespoons ground psyllium husk powder
¾ cup coconut flour
½ teaspoon baking powder
1/3 cup melted coconut oil
½ teaspoon onion powder (optional)
2 cups boiling water
1 teaspoon salt
Sea salt
Coconut oil for frying (this is optional)
Ingredients for the garlic butter
2 garlic cloves – minced
4 oz. butter
Preparation
Mix the dry ingredients in a bowl and add the coconut oil. Then, stir in the water slowly (you might not need to use the entire amount.)
After stirring well, let it rise for 5 minutes. In a short time, you'll get a firm but flexible (Play-Doh-like) dough. Add more psyllium husk powder if your dough is too runny, and some of the remaining water if it's too firm.
Then, divide the dough into six or eight pieces and shape them into balls. Flatten each ball with your hands on the kitchen counter or directly on parchment paper.
Fry them in a skillet over medium heat. You can add some coconut oil if your bread sticks to the skillet. Fry until they turn a nice golden color.
Keep the fried bread in a preheated oven at 140F while you fry more. In that way, you will keep them warm.
Garlic Butter
After melting the butter, add the freshly minced garlic and stir. Brush the bread pieces with the warm garlic butter and sprinkle some flaked salt on top. If you don't use the entire melted butter, pour the rest in a bowl and use it to dip pieces of bread in it.
Here's a video that shows how to make Keto Naan Bread at home.
How to Store
You can keep this keto naan bread in the fridge for two to three days. If you keep it in the freezer, it'll be good for up to two months. Just make sure you place a parchment paper between them so the pieces of bread don't stick to each other.
Before using them, let them stay at room temperature for a while and then place them in a toaster or fry them quickly just to reheat them.
Source:
Diet Doctor