2 Healthy Dinner Recipes When There's Not Much Time to Cook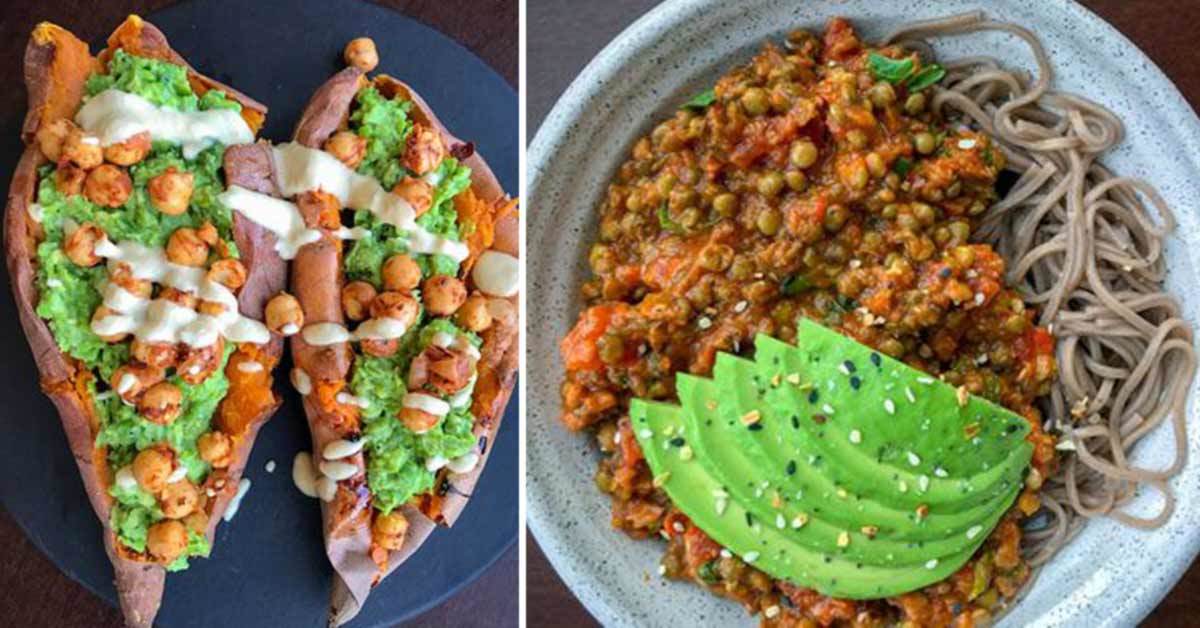 Preparing our own meals at home is the best thing we can do for our health and wallet. Although we all know that fact, the truth is a bit different. There are always some things that take up space in our schedule.
For example, keeping in touch with our friends and family, long hours at work, workout, or even watching our favorite TV show. That's why spending hours in the kitchen is rarely an option.
But, there are some meals we can prepare in no more than ten minutes. Not only that they delicious, but they are also healthy. In fact, they are much healthier than fast food and Chinese takeouts.
So, here are two recipes of mouthwatering, healthy meals we can make in the time we'd spend sitting through a drive-thru line. They are the healthiest fast food we can find.
1. Stuffed Sweet Potatoes
Serves – 1 to 2
Ingredients
For the green pea & avocado smash we'll need:
1 avocado
1 cup green peas
1 garlic clove, chopped
1 tablespoon olive oil
¼ cup onion (red), chopped
black pepper, sea salt, and chili flakes (optional)
For the chickpeas we'll need:
1 can drained and rinsed chickpeas
1 garlic clove, minced
1 tablespoon avocado oil (or another oil)
1 teaspoon smoked paprika
¼ cup onion (red), chopped
¼ teaspoon cayenne
Half a teaspoon cumin
salt to taste and a pinch of chili flakes
For the maple tahini dressing we'll need:
4 tablespoons tahini
1 ½ tablespoon lemon juice
1 ½ tablespoon maple syrup
1 teaspoon olive oil
2 teaspoons apple cider vinegar
1 garlic clove, minced
black pepper and sea salt
Instructions
Cooked the two potatoes in the microwave after poking holes in them. Cook until tender or about 4 to 7 minutes.
Cook the avocado oil, onion, garlic, and spices for the chickpeas over medium heat for one to three minutes. Add the chickpeas and cook for another five to ten minutes.
Add all ingredients for the pea and avocado smash in a food processor or a blender and pulse/blend until it gets the desired consistency.
In a separate bowl, whisk all ingredients for the dressing until well combined.
Take the cooked potatoes and cut them open. Then, stuff with the avocado smash and chickpeas. Finally, drizzle with the dressing. Combine with any vegetables.
2. Spiced Lentils
Lentils are delicious and an excellent source of copper, dietary fiber, manganese, and phosphorus. They also contain protein, iron, zinc, vitamin B1, potassium, pantothenic acid, and vitamin B6.
That's why lentil is one of the healthiest foods on the planet. Here's an interesting way to prepare it and make it even more delicious.
Ingredients
15-ounce can cooked lentils (drained & rinsed)
½ onion, chopped
3 garlic cloves
1 tablespoon smoked paprika
1 large red bell pepper, stem & seeds removed
1 to 2 tablespoons maple syrup
2 tablespoons tomato paste
1 teaspoon ground cumin
¼ teaspoon cayenne pepper
½ teaspoon ground turmeric
1 teaspoon ginger, grated
¾ cup fresh cilantro
2 tablespoons lemon juice
½ teaspoon sea salt, or up to taste
Instructions
Blend the onion, garlic, tomato paste, bell pepper, sea salt, maple syrup, lemon juice, ginger, and spices together in a blender or food processor until well combined.
Add the drained lentils, the sauce, and the fresh cilantro to a large pan or pot and cook over medium-low heat. Make sure you stir until combined thoroughly.
Finally, serve with vegetables, noodles, or rice. Enjoy!