Farmers' Almanac Warns of Brutal Winter
Will this winter be freezing, wicked, or wonderful? Well, it seems that the Farmers' Almanac knows the answer.
They expect above-average snow to the northeast. And since nothing good lasts forever, the Farmers' Almanac crash our wintery dreams by reminding us of the cruel freezing winter days that await.
Here is the unusual winter weather forecast for 2018.
2018 Unusual Winter Forecast
For a long time, the publication has been publishing advanced weather forecasts in an attempt to predict the upcoming weather changes.
The Farmers' Almanac focused their forecasts depending on the season, tidal action, sunspot activity, planetary position, and most important of all, top secret astronomical formulas and mathematics.
However, modern meteorologists don't approve of these predictions as most people might be thinking. So, if you want to prepare for an extremely cold winter, there is absolutely no harm in seeing what the Almanac team have to say about this winter season.
According to their prediction map, it seems that there will be extremely cold and snowy days in the eastern half of the country. In fact, people have to prepare their shovels to dig up the snow and wear some heavy warm clothing.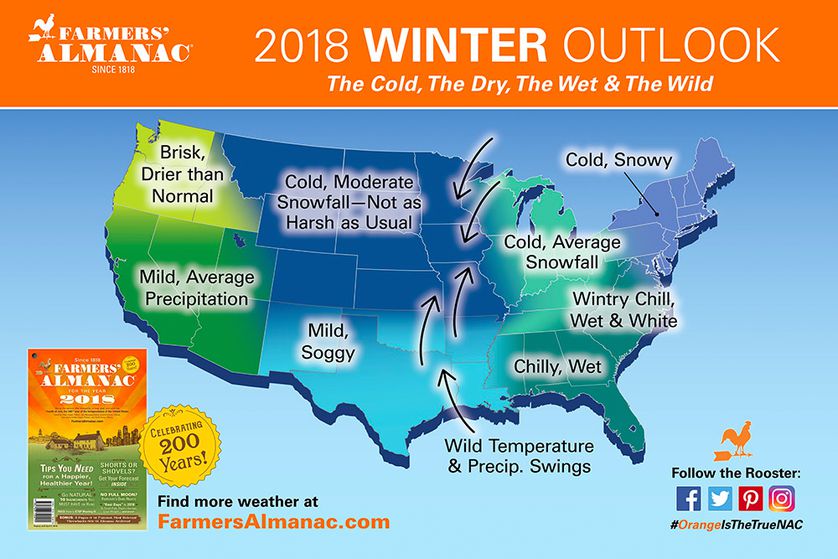 More precisely, the Almanac claims that some certain dates are red-flagged. Moreover, they advise people not to travel during this ''Snowy apocalypse''. This information may send some shiver down your spine, but the Almanac strongly defends their prediction.
Furthermore, they advise people to stay at home:
from January 20th to 23rd
from February 4th to 7th; 16th to 19th
and March 1st to 3rd; 20th to 23rd
Worrisome Claims
The managing editor, Sandy Duncan said that being in the predicting weather business for a long time might seem worrisome, but in fact, it is immensely rewarding and exciting.
Many people who read the news will be extremely happy of the snowy days to come, especially if they love winter. However, there will be others who will complain of the extreme cold, wet, and snowy weather.
But, we stay true to our predictions, said Duncan, no matter what Mother Nature may have in store for us.
Your annual reminder that using the Farmers Almanac for a seasonal meteorological is about as good as going to a psychic.

— Matt Lanza ⛄️ (@mattlanza) August 16, 2015
Final Thoughts
If this prediction comes true, most of us will be glad to say ''goodbye mosquitos''.
But, we will also have to say ''so long green grass and sunshine''. Since the Farmers' Almanac predicts an incredibly snowy winter, more than usual, for the northeast, it could mean that it is time to take the skiis!
However, we also should have in mind that the Almanac was wrong in 2016. They predicted that heavy snow will hit the Mid-Atlantic region. Of course, that didn't happen. So, instead of cold freezing temperatures, we had warmer weather.
Besides, the only memorable snowstorm hit on March 14 but wasn't even close to the forecasters' dire predictions. Therefore, it is important to remember that predictions have a low chance of actually happening.
So, it is not a good idea to take them to heart. After all, history has always been there to remind us how hard it is to predict how the weather will be like in the following months. Especially with such precise dates and places.
Source: Farmers' Almanac